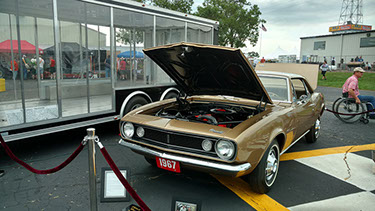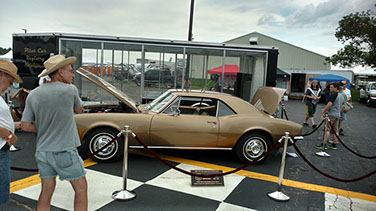 Team Pilot Car Registry at the
Old Iola Car Show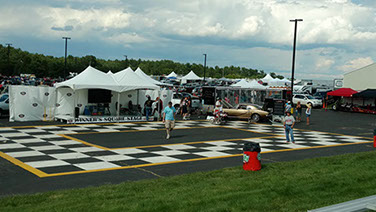 Pilot Car Registry was sponsored by Chevrolet to attend the Old Iola Car Show in Iola,Wisconsin during July 6-8th of 2017. It marked the 45th anniversary of this car show and they celebrated the 50th anniversary of the birth of the Camaro. During this show, Pilot Car Registry was aired on two televised news programs and interviewed by Courtney Hansen. This was our first visit to Iola.....but will not be our last. The small town of 1100 people transforms into a venue that is attended by over 120,000 people during this very special week. It was pretty impressive and our research and displays were met with much fanfare and enthusiasm. A special thanks goes out to all the wonderful volunteers that make this show such a success every year.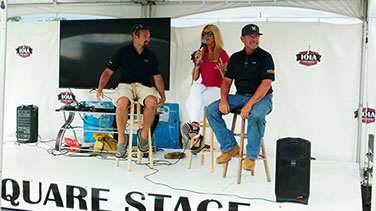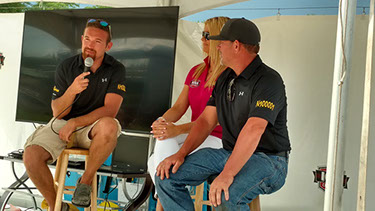 Team Pilot Car Registry with
Courtney Hansen in an Iola Interview
All of the Vehicles produced by the former General Motors Corporation at its long expunged Norwood, Ohio factory are all existing trademarks of the new General Motors Company. Any and all historical marks as used here are used for identification, description, illustrative, and educational purposes only. This site is not affiliated with General Motors Company.
By: Logan Lawson
Registrar Of WWW.PilotCarRegistry.com
Copyright 2014 Logan Lawson. All Rights Reserved.