"The Skip Hudson Video Road Test Car"
Norwood
"F" Car Pre-Production Unit
Fleet & Special Order 5A - 23
Engineering - Body Of Design
Model - 12667
Body Style - Convertible
Serial # 12667
Fisher # DD02D
Paint # 900FF Marina Blue - Show Paint Required
Trim # 732AD Blue
Top Color - Black
Options
L30AB - V/8 327 cu. in. Engine
M35BL - P/G Transmission
A02AA - Tinted Glass
A31AA - Electric Windows
C05AA - Color Top
C06AA - Power Top
J50AE - Power Brakes
N40CA - Power Steering
P01AA - Wheel Trim Covers
P58AA - 7 : 35 - 14 - 4 W/Wall Tires (U.S. Royal Rubber)
U69AB - Radio
Front Antenna
A39AL - Deluxe Seat Belts
U80AB - Auxiliary Speaker
Z22AJ - Rally Sport
U15JA - Speed Warning Devices
Fisher Pilot Plant # 21 - Detroit
Fisher Promise Delivered To Chevrolet - 5/23
Vehicle Required At Destination - 6/7 *Shipped 6 Days Late
Destination - Proving Grounds
Milford, Michigan
Attention: C. Caswell
Final Destination - Warren, Michigan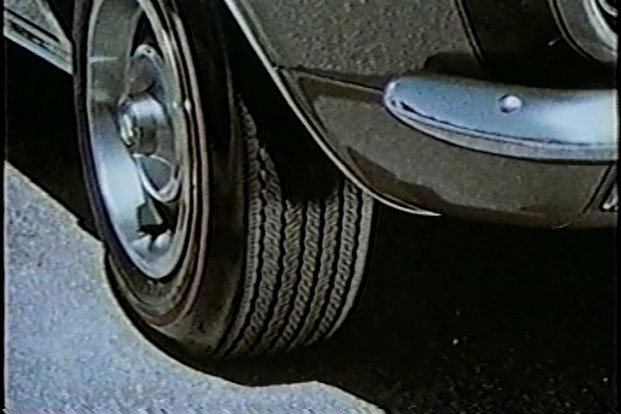 Vintage Pilot Book Page
Click The Image To Read
N100002, "The Skip Hudson Road Test Car", was delivered on May 23, 1966 from Fisher Body as coach #DD02D. Like all F-Body Pilot Prototypes at Norwood, it started its hand built assembly in consecutive VIN number order as the second build of the engineering study. One of one on Fleet and Special Order # 5A-23 made by Engineering Body of Design, it carried model # 12667. This blue on blue convertible was the first Camaro convertible ever built. With a 327 cubic inch power plant and a power-glide automatic transmission, its presence in the final stages of the General Motors Jam Handy Video make it the most historically significant convertible that was ever built. It was required to be received by C. Caswell at the General Motors Proving Grounds on or around June 7, 1966 for testing, but was shipped six days late. NCRS certificates show #2 being returned to corporate, Zone 0 and it is thought to have been used as a company promotional vehicle shortly thereafter. Extensive and exhaustive history searches have gleaned no documented ownership history. Current whereabouts and existence is unknown as of 3-1-2015.
Note: See Pilot Statistics Page for help with explanation of research.
Title History Research N100002
Click The Image To Read
All of the Vehicles produced by the former General Motors Corporation at its long expunged Norwood, Ohio factory are all existing trademarks of the new General Motors Company. Any and all historical marks as used here are used for identification, description, illustrative, and educational purposes only. This site is not affiliated with General Motors Company.
By: Logan Lawson
Registrar Of WWW.PilotCarRegistry.com
Copyright 2014 Logan Lawson. All Rights Reserved.