"The Accessory Jacksonville Convention Car"
Norwood
"F" Car Pre-Production Unit
Fleet & Special Order 5 - 3
Sales - Jacksonville *Accessory Vehicle
Model - 12667
Body Style - Convertible
Serial # 12667
Fisher # DD39D
Paint # 900RR Bolero Red - Show Paint Required
Trim # 765AA Black
Top Color - White
Options
L30AB - v/8 327 cu. in. Engine
M35BG - P/G Transmission
A31AA - Electric Windows
A67AA - Folding Rear Seat
B37BA - Floor Mats
C06AA - Power Top
D55JJ - Console
G80BA - Positraction
J50AE - Power Brakes
N33BA - Tilt Steering Wheel
N40CA - Power Steering
N96AA - Magnesium Wheel Cover
P58AA - 7 : 35 - 14 - 4 W/Wall Tires (Goodyear Tire Company)
U57AK - Tape Deck
U69AB - Radio
Front Antenna
A39AA - Deluxe Seat Belts
V31AA - Front Guards
V32AA - Rear Guards
Fisher Pilot Plant # 21 - Detroit
Fisher Promise Delivered To Chevrolet - 6/6
Vehicle Required At Destination - 8/8
Destination - Chevrolet Atlanta
McDonough Boulevard And Sawtell Road
Atlanta, Georgia
Attention: R. J. Jones
Final Destination - Richmond, Virginia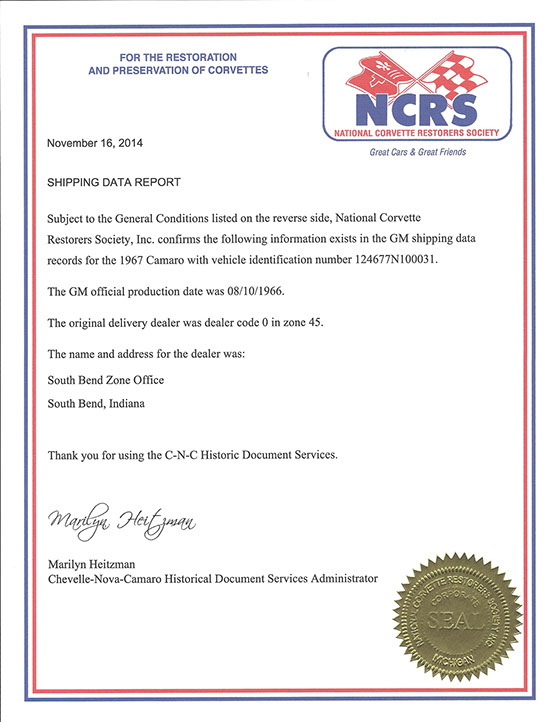 Vintage Pilot Book Page
Click The Image To Read
50 Year History of #31
By late 1964, Chevrolet was designing their answer to the infamous Ford Mustang. This process began with the XP-836 design study that would produce scale models that didn't run out of artistic materials,
such as clay, balsa wood, and fiberglass.
When this process was completed in the winter of 1965, the potential drive-trains were tested in aesthetically modified Chevy II X-Car Novas, because of the component similarities.
At the same time, Fisher Body was working on sheet-metal tooling utilizing full scale sheet-metal modeling techniques for the coaches they would supply to Chevrolet.
When these processes were refined and readied for test manufacture...the program was then tasked with the hand building of the first working prototypes. This process would ultimately create 52 working Pilot Prototypes for the F-Car Manufacturing Platform...the First Chevrolet Camaros. These cars would be a landmark achievement and spark the longest and fiercest rivalry to ever come out of Detroit...the Chevrolet Camaro vs. the Ford Mustang.
N100031, "The Accessory Jacksonville Convention Car", was delivered on June 6, 1966 from Fisher Body as coach #DD39D. Like all F-Body Pilot Prototypes at Norwood, it started its hand built assembly in consecutive VIN number order as the thirty-first build of the engineering and manufacturing study. One of three on Fleet and Special Order # 5-3 made by Sales Convention Jacksonville, it carried model # 12667. This red on black convertible was the tenth Camaro convertible ever built. With a 327 cubic inch power plant and a power-glide automatic transmission, an impressive ownership history, and its original condition make this an important piece of Pre-Production Camaro history. It was required to be received by R.J. Jones at Chevrolet Atlanta on or around August 8, 1966 for photo shoots. NCRS certificates show #31 being shipped to the South Bend Zone Office, Zone 45, where it was used as a company promotional vehicle shortly thereafter until being sold to its original owner.
Thats where our story takes on a personal flare....
The two cars that were shipped to the South Bend Zone Office, #31 being one of them, were showcased in smaller, regional new-product sales promotions. After the formal release of this new-product line to dealers in late September of 1966, these Pilot Prototypes were utilized by the managers of the South Bend Zone Office as company cars. The managers of this zone office, John Ryan and Bill Van Hulle were instructed to drive them everyday and create awareness locally. These two men were golfing companions with Ralph Kinyon and when the promotional days of these cars had run their course, shared the fact that these two Pilot Prototypes were to be returned to Corporate or sold locally.
Ralph Kinyon had a daughter, Kay, who was a senior in high school and jumped at the chance to purchase #31 for her graduation. The car was sold as a pre-done deal with internal work orders through Van Gates Chevrolet of South Bend in March of 1967. Kay drove the car to Drake and Indiana University and traversed the country with her new husband, Bruce Marshall. #31 became impractical when their first child was born in 1973, so the young couple returned the Camaro to her father Ralph...who kept it until 1981.
Ralph would ultimately sell the car to Bruce Wheeler, who would own the car for 26 years. During his curatorship, the car underwent a restoration and was shown extensively at national venues. In the absence of the research of Pilot Car Registry and the factory documentation that was found in 2010 by author Phil Borris, the car's
historical significance was not fully understood.
Thats where this story takes a heartfelt turn. Believing in the historic significance of the car, but unable to prove it...Bruce Wheeler called the original owner and returned ownership to its rightful provenance in Kay's garage in 2007. They would continue the search for the car's obvious significance unfruitfully until 2014.
The current owner of N100031, Brent Miller, promised to continue their quest and curatorship. He fittingly accomplished this endeavor with the research of Logan Lawson and the Pilot Car Registry volunteers. It was authenticated in person and now possesses the truly historical significance it always deserved.
50 Year History of N100031
Click The Image To Read
Photos From On-Site Vehicle Authentication
Title History Research N100031
Click The Image To Read

Classic car is again a part of the family
July 25, 2007 | BRUCE MARSHALL Tribune Staff Writer
Bruce Wheeler had a hard time fighting back tears as he watched my wife, Kay, back out of his driveway in his 1967 Chevrolet Camaro. She wasn't stealing the car. Quite the opposite, she was driving it home. The Camaro is a car we never thought we would see again, let alone own. Especially considering that this bright red, convertible Camaro is in nearly the same condition it was when it rolled off the assembly line in September 1966. Although the car is special, the memories my wife and I have of the car far exceed any monetary value the car may have. My father-in-law, Ralph Kinyon, bought the car for Kay during her senior year at Riley High School. She drove it in college, first at Drake University and then Indiana University. Kay was my girlfriend in 1969, when I was stationed at Andrews Air Force Base in Washington, D.C. She drove out to visit me in the Camaro. I got a lot of looks when I drove off the base in that red Camaro, with the top down and a pretty girl beside me. When Kay (my wife by then) and I returned from the United Kingdom in 1973 after a three-year tour of duty there, we discovered Kay was pregnant with our first child. Buying an MG Midget in England had proved to be a bad decision, as it barely carried two people, let alone three. My father-in-law offered us the Camaro to drive while I finished school at Indiana University. Our first daughter was born in Bloomington in 1973 and we brought her home from the hospital in the Camaro. Six weeks later, in a blinding snow storm, we moved back to South Bend, with my wife, daughter and dog in the Camaro and me following in a small truck with all our worldly possessions. The Camaro performed flawlessly, the truck didn't. We gave the car back to my wife's father and he kept it until 1981, when he sold it to Bruce Wheeler, who was living in Illinois at the time. He then moved to Nashville, Tenn., where the car has been for the last 10 years. For the past 26 years Wheeler has meticulously maintained the Camaro, entering it in car shows, proudly driving it in parades and, in general, loving it. The decision to give up the car was a difficult one for him. The decision of who to sell the car to was an easy one. The only ones he offered the car to were my wife and me. In 1985, after he had done a "frame off" restoration of the Camaro, Wheeler drove the car to South Bend. While he was here, he took both our daughters for a ride. Recently, we took all three of our grandchildren for rides in the Camaro, strapped into the back seat in "lap belts," just like their mothers were 22 years ago. Besides our personal attachment to the car, the Camaro is a special story itself. It was manufactured in Norwalk, Ohio, in September 1966 (this date is stamped on the firewall), although it is considered a 1967 model. The Vehicle Identification Number (VIN) ends in 100031, indicating it was the 31stt Camaro manufactured. Since 215 Camaros were made on that first day of production, ours was almost certainly made on the first shift. In addition, Wheeler's research shows the car was taken off to the side of the assembly line and made into a convertible. Ours is the first Camaro convertible ever made. There are parts on the car stamped "PROTO" for prototype, especially the hardware for the convertible top. Many of these parts never made it to the assembly line. They only exist on our Camaro. When the Camaro came off the assembly line, General Motors must have liked its looks a lot because they decided to ship it to the Zone Office in South Bend. There it was driven around the states of Indiana, Michigan and Illinois to show off the style of the new Camaros. John Ryan and Bill Van Hulle, managers of the Zone Office, were golfing partners of my father-in-law. When they told him the car was going on the market after they had driven it around for six months, he jumped at the chance to buy it. He bought the Camaro in March 1967, with the deal being invoiced through Van Gates Chevrolet of South Bend. Wheeler has contacted all the Camaro Clubs in the United States and many other car clubs, and he has advertised in several magazines, looking for an earlier VIN than 31. Nobody has ever come forward with an older Camaro. Our Camaro might be the oldest one in existence. The parts on the car are totally original, with the exception of the tires. Even the white convertible top is original and looks like it just came off the showroom floor. During the "frame off" restoration in 1985, every bolt and nut, and every part was taken off, cleaned, polished and applied with a protective coating. In 1991, at the United States Camaro Club National Competition at the Indianapolis Motor Speedway, the car was awarded the "Camaro Gold" status, scoring 956 points out of a possible 1,000. Wheeler's awards were a trophy, a certificate and four laps around the "Brickyard" in the Camaro. Wheeler says the laps were an experience he will never forget. When it came time to sell the car, Wheeler called us, and like my father-in-law, we jumped at the chance to buy the car. The final decision took three years for him to make, but we picked it up the first weekend in June. He turned down a number of people who wanted to buy the car, including his own daughter, to sell it to us. He was sure the car belonged with us, back home where it began 40 years ago. For that, we will always be grateful to him. Driving the car from Nashville to South Bend, I found out quickly that it was a fun, but hazardous task. People would drive up next to me and honk and wave, which is OK. But then they would pull closer to the car to get a better look, driving into my lane way too close. I stopped at a rest area to use the bathroom in Kentucky. When I returned to the car, I found about 10 people, mostly baby boomer guys my age, standing around the car, admiring it. I was about to get in and drive away when they started asking questions about the car. I told them the car's history and then I listened to their stories about the Camaros and Chevelles that they had in 1967. The stories ended the same -- they all wished they still had their cars and that their cars were in the shape our Camaro was in. I finally got out of the rest area 45 minutes later, but not before I had to "pop" the hood so they could all see and admire the engine. My wife and I both graduated from high school in 1967, she from Riley and me from Washington. We are anticipating a lot of fun driving our 40-year-old Camaro to our 40-year reunions later this summer. Now, if they would just re-open the Bonnie Doon on South Michigan Street. We sure would like to take one more drive around The Circle. If you're too young to know about The Circle, ask someone in an old Camaro.