"The #3 Emblem Test Electro-Maro Car"
Norwood
"F" Car Pre-Production Unit
Fleet & Special Order 5 - 9
Sales - Phoenix *Electrical Drive
Model - 12637
Body Style - Sport Coupe
Serial # 12637
Fisher # DD51D
Paint # 900YY Butternut Yellow - Show Paint Required
Trim # 765AA Black
Options
Standard - V/8 283 cu. in. Engine
M20AA - 4 Speed Transmission
C08AA - Vinyl Roof
P67AA - 6 : 95 - 14 - 4 W/Wall Tires (General Tire Company)
A39AA - Deluxe Seat Belts
Z21AA - Exterior Moulding
Omit Power Train
Fisher Pilot Plant # 21 - Detroit
Fisher Promise Delivered To Chevrolet - 6/16
Vehicle Required At Destination - 7/10 *Shipped 1 Day Late
Destination - 6030 Cass Avenue
Detroit, Michigan
Attention: Tom Putnam
Final Destination - Memphis, Tennessee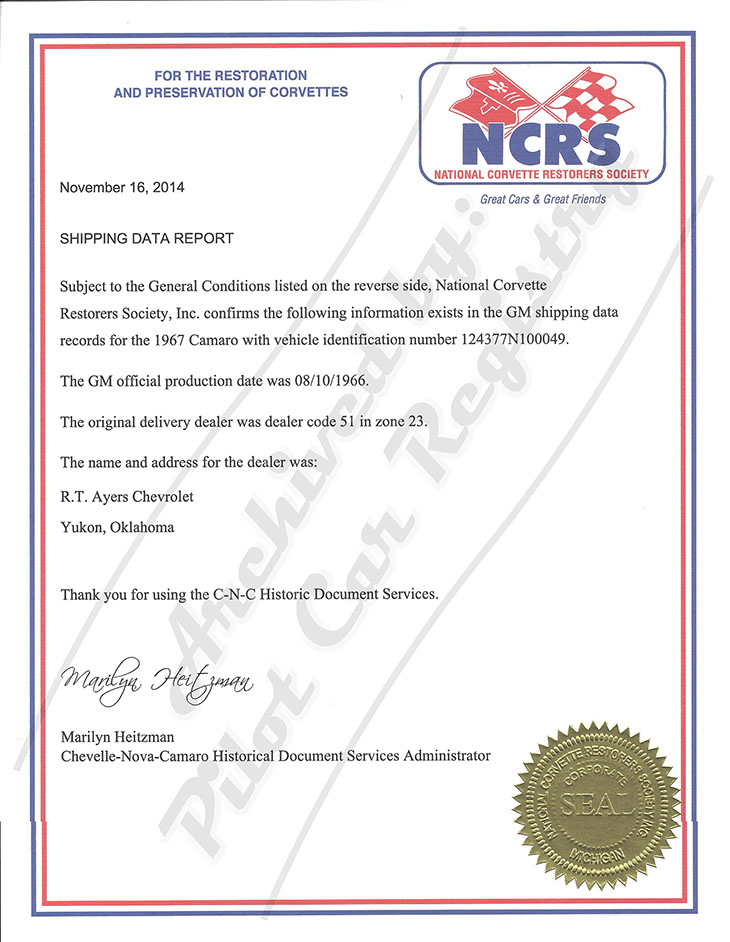 Vintage Pilot Book Page
Click The Image To Read
N100049, "The #3 Emblem Test Electro-Maro Car", was delivered on June 16, 1966 from Fisher Body as coach #DD51D. Like all F-Body Pilot Prototypes at Norwood, it started its hand built assembly in consecutive VIN number order as the forty-ninth build of the engineering study. One of four on Fleet and Special Order # 5-9 made by Sales Convention Phoenix, it carried model # 12637. This yellow on black coupe was the thirty-sixth and last Camaro coupe ever built. With all four Electrical Drive builds being ordered as "Omit Powertrain", our research shows all four being delivered to the Technical Center approximately three weeks ahead of schedule. This is derived from dated photos of the #5-9 build at the Technical Center, average elapsed time for all Pilot Prototypes at the Pilot Prototype facility, and the lack of storage space and allotted electrical drive build time. During the initial mock-up of #28…, #29, #30 and #49 were used in a Test Emblem Photographic Study. All three photographic studies were trimmed like XP-836 at the Tech Center. These three photo shoots were taken by GM Styling on a brisk Monday morning, June 20, 1966. It was these three photo studies, some passing muster… others not, that ultimately led to the primary choice of the name Camaro a week later. As evidence in the photos, The Name Panther was passed over, but other aspects were retained. This was the same electrical mock-up program that brought us the Electro-Vaire. Additionally, these photographic studies were the last emblem study prior to General Motor's final expense of $100,000.00 for tooling derived from the name choice. Delivered from the pilot program "Omit Powertrain", it can be evidenced in these photos with the clutch pedal missing, fake mock up Rally Sport / Super Sport adornments, and electrical elements hanging from the sub-frame. This information was uncovered recently and is being released to the public for the first time by this website. Prior to this release, no such program was known to exist. A special thanks to the General Motors Heritage Center, our research team, and all interviewees arranged by author Phil Borris. These four electrical drive builds are the single most historical technical builds in Camaro history. NCRS certificates show #49 being shipped to R.T. Ayers Chevrolet, Zone 23, shortly after the removal of the "Electric-Drive" unit. Extensive and exhaustive history searches have gleaned all documented ownership history. Current whereabouts and existence is confirmed as the only two of the Electro-Maros to exist as of 3-1-2015. One of three Pilot Prototype builds ordered by Mr. Ayers… he holds the distinction of being the first Camaro collector to exist. Recognizing the significance of the hand built Pilot Prototypes, he requested and received the first and last build, as well as, #36. These cars sat on his showroom floor as part of his collection and were used to sell and promote the new model. He achieved this through his relationships with top brass at General Motors. A full biography of Mr. Ayers can be viewed on the N100001 video. The full story of these four builds can be accessed by the link below.
50 Year History of #49
Further Information Will Be Coming Soon
Title History Research N100049
Click The Image To Read
Electro-Maro Research
Click The Image To Read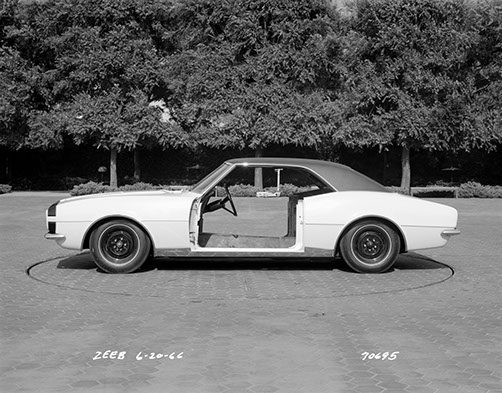 All of the Vehicles produced by the former General Motors Corporation at its long expunged Norwood, Ohio factory are all existing trademarks of the new General Motors Company. Any and all historical marks as used here are used for identification, description, illustrative, and educational purposes only. This site is not affiliated with General Motors Company.
By: Logan Lawson
Registrar Of WWW.PilotCarRegistry.com
Copyright 2014 Logan Lawson. All Rights Reserved.