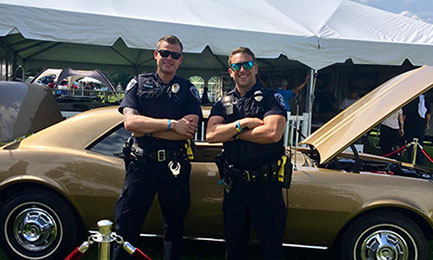 Pittsburgh's Finest Protecting
Pilot Car Registry on Site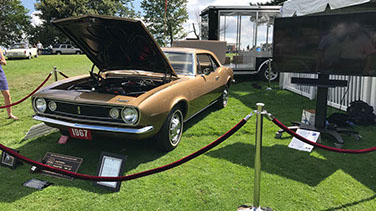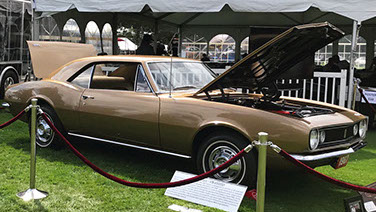 Team Pilot Car Registry at the
Pittsburgh Vintage Grand Prix
Pilot Car Registry was sponsored by Chevrolet to attend The Pittsburgh Vintage Grand Prix in Pennsylvania on July 15-16th of 2017. The Pittsburgh Concours d'Elegance, combined with their vintage grand prix that traverses the city streets of Pittsburgh is an incredible venue. The marquee event has been held for 35 years and enjoys the historic use of city streets outside the norm of most vintage racing. Additionally, the 50th anniversary of the Camaro was the theme of 2017's event. During this show, Pilot Car Registry was aired on televised news programs nationally. It was a truly special event and our research and displays were utilized yet again by the men and women of Chevrolet that manage their National Shows. A special thanks goes out to all the wonderful volunteers and our new friend, Olivia at Chevrolet.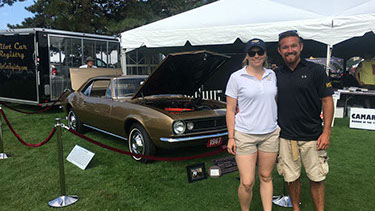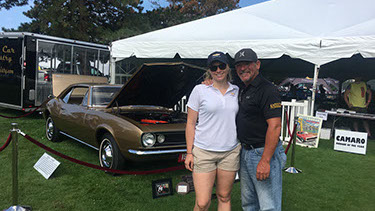 Team Pilot Car Registry with Olivia
-NE Region GM Show Manager
All of the Vehicles produced by the former General Motors Corporation at its long expunged Norwood, Ohio factory are all existing trademarks of the new General Motors Company. Any and all historical marks as used here are used for identification, description, illustrative, and educational purposes only. This site is not affiliated with General Motors Company.
By: Logan Lawson
Registrar Of WWW.PilotCarRegistry.com
Copyright 2014 Logan Lawson. All Rights Reserved.